Rupert Neve Designs Master Buss Converter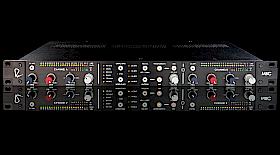 ---




2.600,00 €
[Excl VAT]
Whether you're tracking, printing mixes or mastering, the Master Buss Converter is a revelation in quality and functionality of A-D conversion technology. The analog drive circuitry allows the MBC's converter to be fed by either a class-A transformerless path for maximum transparency, or by custom interstage audio transformers with variable Silk for a wide variety of tonal enhancements. Coupled with an astonishingly musical limiter, the MBC is always the best choice to capture your analog signals with breathtakingly three-dimensional accuracy.
Showroom model in excellent condition (just a tiny scratch at the interior of one of the Rack Mount holes).... with full warranty and original packaging!!
Super Deal!
price ex vat (3146 Euro VAT included)
Questions about Rupert Neve Designs Master Buss Converter? Contact us!
---